Jurassic World: Dominion Dominates Fandom Wikis - The Loop
Play Sound
For other uses, see AiAi (disambiguation).

AiAi's Funhouse is a mobile game released for J2ME-compatible devices in 2003 by Sega Mobile. It consists of 2 minigames - Whack-A-Monkey, and Monkey See, Monkey Do - and features AiAi without his monkey ball.
Official Summary
Ladies and gentlemen, step right up! In AiAi's Funhouse, Sega's most popular primate is your ringleader through two Monkey Ball-inspired games. Thrill! to the pulse-pounding excitement of Whack-A-Monkey, where your reflexes will be pushed to their very limits. Chill! to the brain-bending mayhem of Monkey See, Monkey Do, a memory game not for the weak of mind. Behold! as your high scores rise to dizzying heights! Take a chance and try your luck in the one place where everyone's a winner -- AiAi's Funhouse!
Gameplay
Whack-A-Monkey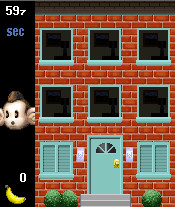 This minigame shows AiAis and bananas in the funhouse. Similar to the game Whack-A-Mole, the goal is to whack each AiAi or banana using the number on your phone corresponding to the window it resembles on the keypad (see image below). Whacking an AiAi is worth 1 point, a banana is worth 2, and a banana bunch is worth 10. Whacking a rotten banana or an empty window takes away one point. There are a total of 3 rounds to go through and you are given 61 seconds to beat each one.
Monkey See, Monkey Do
This minigame is a simple memory game taking place in the funhouse. AiAi will show you a pattern when the word "SEE" is below him, and you must repeat it back to him when you see the word "DO". The first round limits the patterns to the top row, and the second round the top two, and the third uses all three rows on the funhouse. It is an endless minigame and will stop each round when you make a mistake.
Trivia
Gallery
Download