Ch'Chi is a character seen in Super Monkey Ball Adventure. She is available for purchase from Paipai to use in Party Games for twenty bananas.
Appearance
Ch'Chi is a monkey with red fur and white skin. She has her hair tied back in a ponytail and wears a white shirt, blue skirt, and white shoes.
Description
Ch'Chi is a school teacher found on the Air Automaton of Moonhaven. She enjoys taking schoolchildren on tours around the city ever since she got over her fear of the Automatons.
Missions
Ch'Chi's students have gotten stuck in the pipes of the Air Automaton. Take the big gear up to where the four pipes are, which are where the four monkeys are stuck. Start bouncing on one of the four platforms (one at a time) to get each monkey out.
Monkey Trumps
Description
"Having overcome her fear of the Moonhaven automatons, Ch'Chi runs children's tours around the city teaching them about the clockwork mechanisms and the freedom that knowledge can bring."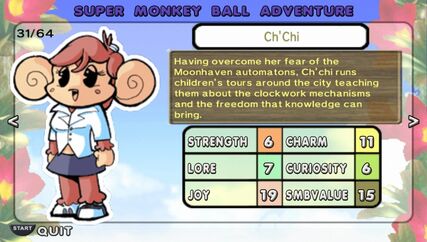 Stats
Ch'Chi has fairly average stats, and has a very good stat in Joy.
Strength - 6
Lore - 7
Joy - 19
Charm - 11
Curiosity - 6
SMB Value - 15
Trivia
In the GameCube version, she only wears her skirt and shoes.