Chute (or CHUTO) is the 6th stage of the 1st world, Monkey Island, in Super Monkey Ball: Step & Roll, as well as Beginner stage 1-4 in Super Monkey Ball: Banana Splitz.
In Step & Roll, this stage hosts Monkey Island's banana collectible, called the Unripe Banana.
Description
This stage has curves at the start that lead to a jump that could resemble the Monkey Target ramp, followed by an elevated square platform with a line of bananas on it. The goal lies beyond this platform at the far end of the stage.
Goal Tutorial
Follow along the curves, go down the ramp and head straight for the goal.
Banana Collectible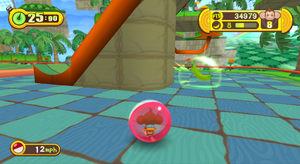 The banana collectible can only be found in Step & Roll.
The Unripe Banana is located behind the jump ramp. To reach it, simply go down the ramp, turn around and head for the back of the slide.
Trivia
CHUTO likely refers to Step & Roll's internal name for Chute.
Super Monkey Ball: Banana Splitz Stages
Beginner
Monkey Island
Normal

Night Island

ΔOΧ☐

•

Group Notebook

•

Slide Village

•

Picnic Hill

•

Basic Bonus 2

•

Simple Half-Pipe

•

Pendulum

•

Jungle Dive

•

Light Blocks

•

Dino Disturbance

Clay Temple

Curving Road

•

Quick Path

•

Disc Piece

•

Whip

•

Stumble Stone

•

Hourglass

•

Invalid Bowl

•

Clover Clip

•

So Cute!

•

Colossus

Block Town

Bumper Circle

•

Triangle

•

Castle Walk

•

Hopping Plate

•

Waterwheel

•

Ripple Town

•

Marching Lane

•

Safety Slider

•

Bubble Ball

•

Windmill

Advanced

Lava Island

Foggy Temple

Snow Town

Hop Step

•

Melody

•

Building Blocks

•

Labyrinth Bar

•

Wonder Wheel

•

High-Stress Speed

•

Quick River

•

Bubble Ball Float

•

Bumper Street

•

Window Mill Climb

Cardboard West

Western Road

•

Honeycomb

•

One-Ace Swing

•

Tornado

•

Big Cactus

•

Chicken Helicopter

•

Bumper Base

•

Sand Pile

•

Loop-de-Loop

•

Frontier Spirit

Space Wars

UFO

•

Colony Quarter

•

Factory

•

Danger Board

•

Monkey Cube

•

Heavy Blocks

•

Satellite Burst

•

Dot Bit

•

Asteroid Born

•

Mothership

Master

Time Paradox

Shanti Chakram

•

Shockwave

•

Heaven and Hell

•

Master Slider

•

Banana Split

•

Mega-Float

•

Emperor's Pyramid

•

Bumper Core

•

Chaos Metronome

•

Clock Gear