Dada is a character that appears in Super Monkey Ball Adventure. He resides with his daughter, Tootoot, in Jungle Island.
Description
Dada is a simple resident who lives in Jungle Island with his baby daughter, Tootoot. He has light brown fur and white skin with a goatee. His outfit includes a white shirt, dark blue jeans, a black belt, brown boots, glasses, and a top hat.
Missions
Town Square
Dada's daughter, Tootoot, was scared off and hid in the wrong top hat. Usually, she will hide in Dada's. But this year, everyone is wearing a top hat, and she must've gotten confused. Go around the town square and knock down any Top Hat Monkeys you see. The last one you knock over will have Tootoot in it.
Once you complete Dada's mission, he will say, "With that pink bow in her hair she is as beautiful as Princess Dee-Dee!" Remember this statement. It is a clue that you will use later when you are finding the prince and princess later on in the game.
Once Dada's mission is completed, you will also be able to do Pospos's in Jungle Island. However, instead of easily going across the street to Dada, he will have moved from his spot to the high stalagmite holding his hut. Use the flowers to bounce up to him, and hand him his letter. He will have his top hat on.
Monkey Trumps
Description
"Dada bought his top hat from Duv d'Duv in Zootopia. He hides important things under it, for safekeeping. The problem is, not everything he puts in comes out again and some things come out he doesn't expect."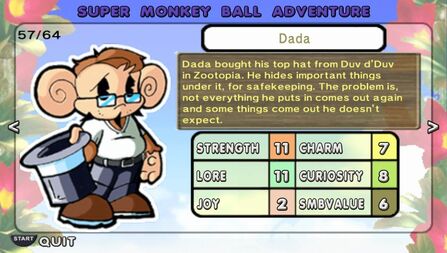 Stats
Dada has average stats, but lacks in Joy.
Strength - 11
Lore - 11
Joy - 2
Charm - 7
Curiosity - 8
SMB Value - 6