Digdig is a character seen in Super Monkey Ball Adventure. He resides in Kongri-la.
Description
Digdig is a big monkey who tends to the banana trees in Kongri-la, both above and below the surface. He has pinkish fur and white skin and wears a purple vest and belt.
Missions
Main Island
Your task is to deliver a water balloon to each banana tree on the surrounding islands. Use Hoverball to get onto each piece of island and take a balloon, one at a time, to each wilting banana tree.
Underwater
Crabs have overrun the surface and are trying to take the bananas off the trees underwater! Use Tetherball to squash then take each big crab (ones with a red shell) to the suction vacuum near Digdig.
Monkey Trumps
Description
"Digdig's uncle is a gardener on Jungle Island - have you met him? His uncle's got it easy. He's never had to grow bananas under water, with mechanical monkeys and weird crabs all wanting a share."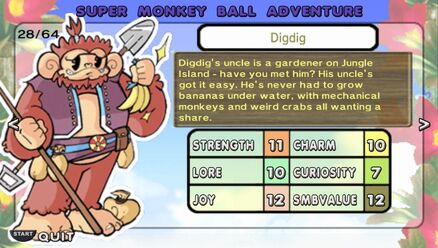 Stats
Digdig's stats are fairly balanced.
Strength - 11
Lore - 10
Joy - 12
Charm - 10
Curiosity - 7
SMB Value - 12