Flam'lam is a Moonhaven Engineer seen in Super Monkey Ball Adventure. He watches over the Fire Automaton in the Undercity.
Appearance
Flam'lam is a Big 'un that wears typical engineer attire.. He has dark brown skin and red fur.
Description
Flam'lam watches over the Fire Automaton in the Undercity, making sure it has all the fire it can feed off of so it won't go terrorizing the city. Eee'nee helps him get the flames he needs sometimes while he is away.
Missions
Flam'lam only has one mission in the Undercity.
Undercity
Some rainwater got into the basin where the Fire Automaton feeds off of. Use Woodball and the flame by Flam'lam and light the seven torches. This is often considered one of the hardest missions due to awkward rolling angles and constant fallout threats.
Monkey Trumps
Description
"A pyromaniac at heart, Flam'lam loves sitting in front of the fire and cooks his meat loaf in the flames. Sometimes the fire automaton gets very hungry and eats Flam'lam's lunch whilst he's not looking!"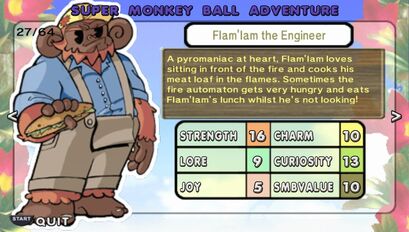 Stats
Flam'lam has fairly balanced stats, but lacks in Joy.
Strength - 16
Lore - 9
Joy - 5
Charm - 10
Curiosity - 13
SMB Value - 10