Makmak is a character exclusive to Super Monkey Ball Adventure's Story Mode.
Appearance
Makmak is a big monkey who is always asking for banana donations. He wears a red cap with a green shirt and sash with red sandals, and holds a banana donation box with him. He has red-brown fur and white skin.
Description
Want to do a good deed for those less fortunate? You've come to the right monkey. Makmak is a kind monkey who wants to do the same. Not only does he have a big appetite, he makes sure the bananas are nice and fresh for charity.
Missions
Makmak does not have a location in Monkitropolis.
Monkey Trumps
Description
"Makmak works collecting bananas for charity. He does it because he has a kind heart, and a big appetite. Makmak makes sure charity begins at home and always makes sure the bananas are fresh."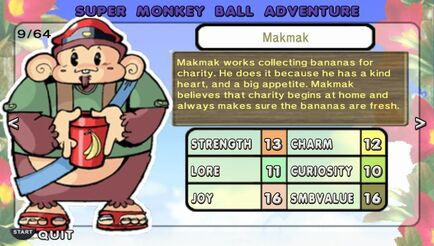 Stats
Makmak has average stats, but he does have good values in Joy and SMB Value.
Strength - 13
Lore - 11
Joy - 16
Charm - 12
Curiosity - 10
SMB Value - 16
Trivia
In his artwork, Makmak has buck teeth and wears red sandals, but these are absent in-game.
As an NPC, his eyes are cross-eyed, but this is fixed when talking to him.