Mo d'Mo is a character seen in Super Monkey Ball Adventure. He resides in Moonhaven.
Description
Mo d'Mo is a trash monkey in Moonhaven. He is a big monkey with blond fur and white skin with a green and beige uniform.
Missions
Arrival Park
Banana peels are scattered all throughout the park! Use Stickyball to pick up the banana peels and bring them to the vacuum near Mo d'Mo. A fairly easy mission.
Monkey Trumps
Description
"Mo d'Mo spends most of his day dreaming about being a magician like Duv d'Duv. He runs around pretending to fly on his broomstick picking up a few odd looks along with the litter."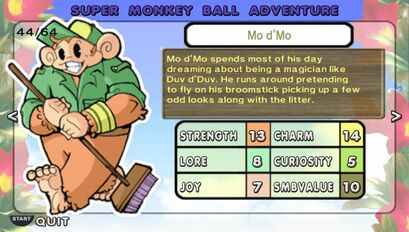 Stats
Mo d'Mo has fairly balanced stats, but lacks in Curiosity.
Strength - 13
Lore - 8
Joy - 7
Charm - 14
Curiosity - 5
SMB Value - 10