Jurassic World: Dominion Dominates Fandom Wikis - The Loop
Play Sound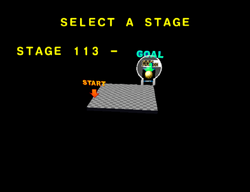 A padding floor is a floor in Super Monkey Ball 2 that, as the name would suggest, exists solely to use up space on the internal stage list.
Explanation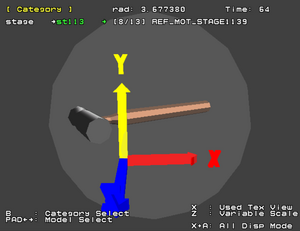 Super Monkey Ball 2's internal stage list contains 420 stages. In addition to stages used in the Main Game, this list is used by the system to find and sort Party Game and cutscene assets.
Even with this large amount, there are a number of floors that were never used. Likely to prevent the IDs of existing stages from being changed, these empty stages instead are assigned a specific pointer value, which tells the system that they are a stage utilizing a specific map. Since every padding floor utilizes the same map, they all look the exact same.
Interestingly, these stages appear to have been added simply to "wallpaper over" assets from the original Super Monkey Ball. Many padding floors have corresponding models that were used in the previous game. (For example, the picture to the right shows a prop from Daa Loo Maa associated with stage 113.) However, unless these models directly affect the goal or certain background effects, they will never appear in-game.
Description
All padding floors have the same layout. They consist of a square with a gray floor texture that has the starting point in the bottom-left corner and a goal in the top-right corner.
While the layout of a padding floor is always the same, the environment is not. Depending on the stage ID, the background, goal, and music will vary. However, the most common environment consists of a black background, a white goal, and the music from Volcanic Magma.
Accessing
While padding floors are present on the disk, they are ignored in standard gameplay since their stage IDs are intentionally never referenced. As a result, these stages are typically accessed by using the Stage Select feature found in the game's Debug Mode. A padding floor can be found by selecting any of the following levels: 103~120, 124~130, 141, 142, 149, 151, 158, 179, 180, 184, 196, 198 and 199.
Beginner 11 Glitch
On a new file, it is possible to access a padding floor via a glitch:
It is unclear which stage ID this glitch accesses, and its music (the Story Mode level select) is not used by any padding floor accessed through Debug Mode.
Trivia
It is impossible to view a padding floor using the View Stage option in the menu. The padding floor in the Beginner 11 glitch will be invisible, while a padding floor accessed with

Debug Mode

will be closed when START is pressed since the stage ID is invalid.
Super Monkey Ball 2 Stages
Simple • Hollow • Bumpy • Switches • Bowl • Floaters • Slopes • Sliders • Spinning Top • Curve Bridge
Banks • Eaten Floor • Hoppers • Coaster • Board Park • Swell • Gravity Slider • Inchworms • Totalitarianism • Leveler • Organic Form • Reversible Gear • Stepping Stones • Dribbles • U.R.L. • Mad Rings • Curvy Options • Twister • Downhill • Rampage • Pro Skaters • Giant Comb • Beehive • Dynamic Maze • Triangle Holes • Launchers • Randomizer • Coin Slots • Seesaw Bridges • Arthropod
Wormhole • Free Fall • Melting Pot • Mad Shuffle • Partition • Jump Machine • Zigzag Slope • Tower • Toggle • Pachinko • Combination • Punched Seesaws • Opera • Brandished • Tiers • Cliffs • Narrow Peaks • Detour • Switch Inferno • Earthquake • Spiral Bridge • Wavy Option • Obstacle • Domino • Sieve • Flock • Double Spiral • Hierarchy • 8 Bracelets • Banana Hunting • Pistons • Soft Cream • Momentum • Entangled Path • Totters • Vortex • Warp • Trampolines • Swing Shaft • Fighters • Serial Jump • Cross Floors • Spinning Saw • Chipped Pipes • Flat Maze • Guillotine • Cork Screw • Orbiters • Twin Basin • Air Hockey
Conveyers • Bumpy Check • Alternative • Junction • Bead Screen • Fluctuation • Folders • Quick Turn • Linear Seesaws • Birth
Auto Doors • Heavy Sphere • Stagger • U.F.O. • Ring Bridges • Domes • Amida Lot • Long Slider • Grid Bridge • Teapot
Charge • Strata • Puzzle • Giant Swing • 5 Drums • Free Throw • Pendulums • Conical Slider • Construction • Train Worm
Centrifugal • Swing Bridges • Cylinders • Passage • Notch • Intermittent • Long Torus • Spasmodic • Double Twin • Clock Face
Variable Width • Striker • Ooparts • Planets • Sliced Cheese • 8 Seesaws • Synchronized • Helix • Dizzy System • Nintendo
Training • Gimmick • Mountain • Disorder • 3D Maze • Labyrinth • Postmodern • Revolution • Invisible • Created By

Debug Mode

Padding Floor • Stage 181