Jurassic World: Dominion Dominates Fandom Wikis - The Loop
Play Sound

Under the Ocean is the 3rd world in Super Monkey Ball 2 and Super Monkey Ball Deluxe.
Description
This world takes place deep inside an underwater trench off the coast of Jungle Island. Main points of interest are a sunken galleon ship, a giant resident fish and the local flowers. These flowers are shaped like chandeliers on the ground and lamps on the walls which light up the area. Light from the surface gets refracted by the water which is projected onto stages found in this area.
Story Mode
As this is the 3rd world of Story Mode, the stages aren't very difficult yet.
Plot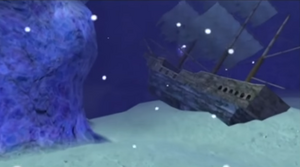 The monkeys find the time bomb that Dr. Bad-Boon placed inside the volcano and are worried that it might blow up soon. Except for Gongon, who proceeds to carelessly hurl the time bomb out of the volcano directly at Dr. Bad-Boon's airship.
After Bad-Boon's airship blew up and crashed into the ocean, he changed into his scuba gear and tried getting away from the monkey team by diving down into the deep. Unfortunately for him, the monkeys spotted him near the crash site before he could descend, and are now chasing him into the ocean.
Stages
In Super Monkey Ball 2
In Super Monkey Ball Deluxe
Challenge Mode
This world hosts Advanced stages 11~19 in Super Monkey Ball 2, and in Super Monkey Ball Deluxe it hosts Beginner stages 36~40, Advanced stages 41~45 and Expert stages 16~19.
Beginner
In Super Monkey Ball Deluxe
Advanced
In Super Monkey Ball 2
In Super Monkey Ball Deluxe
Expert
In Super Monkey Ball Deluxe
Music
A YouTube video of the music for Under the Ocean can be found here.
Trivia